About
Kathryn Burch, owner of Folk Art by Kathryn, has been selling Handmade Primitive Folk Art since 1997. What started out as a hobby for her and her late husband Duane, has turned into a thriving business.
The History of Folk Art by Kathryn
Originally from Michigan, Kathryn moved to Virginia Beach, VA when her husband Duane joined the Navy. Both Kathryn and Duane grew up with a love of antiques and being creative. Duane loved woodworking and Kathryn took Decorative Painting classes. When they purchased their home, Duane set up a workshop and made their niece Kira an easel for Christmas. As they made gifts for family and friends other people took notice and asked to purchase their handmade items. A friend asked Kathryn to join her at a craft show and they sold out. Little did she know that this show was one of the top 20 in the country according to Sunshine Artist Magazine.
Soon Kathryn was jurying their items into Fine Arts and Craft Shows and traveling. Duane and Kathryn also consigned their items to a store and started repairing furniture items in the store which led him to crafting their own furniture and then accepting custom orders. In 2000 they became known as The Cobble Shop, Ltd.
While Duane was on deployment Kathryn continued to travel and talked family members into helping out with shows. Kathryn found paper mâché, tin and glass items to paint and incorporated "trash to treasure" items into their goods. They also sold over 650 different cookie cutters all handmade in PA. Bonnie, Kathryn's mother made aprons and other sewn goods to enhance their products.
Sadly, Duane passed away in 2005 of a rare blood disease. Kathryn has continued their dream and moved to Farmville, VA in 2015, purchasing a historic house in the country with outbuildings and several acres of land.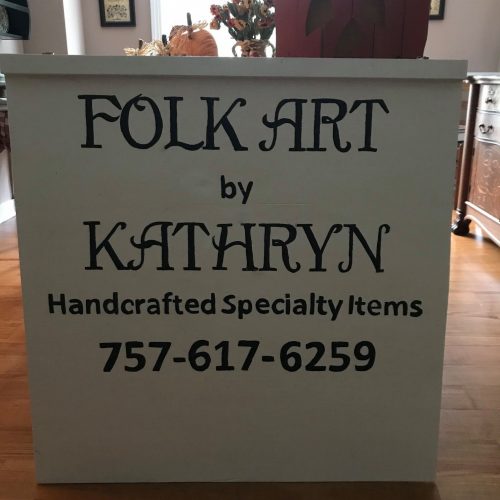 Folk Art by Kathryn Today – High Standards, Beautiful Products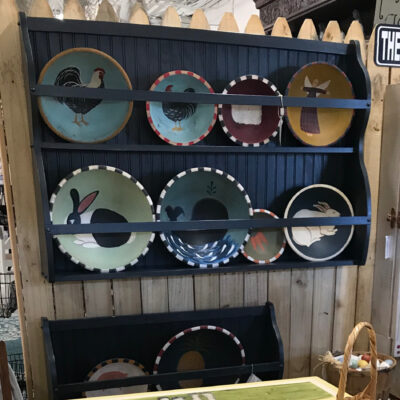 Today, Folk Art by Kathryn still maintains high quality standards and carries handmade, hand painted folk art, primitives, nautical décor, antiques, vintage items and gifts. Kathryn still paints and finishes her handmade items and has a woodworker that crafts her creations. Bonnie sews seasonal items and helps run the store. To round out the store, Kathryn tries to purchase from other artists and carries as many Made In the USA items, she can find that fits with her style.
Primitive, Country, Farmhouse, Cottage and Nautical décor… if you are looking for that unique, one-of-a-kind gifts or a distinctive piece for your home, you will find it at Folk Art by Kathryn!